The accommodation
Château GIGOGNAN

You will stay in a preserved, historical setting surrounded by vines, parasol pines, olive trees, sheep and bee hives, and experience a moment of harmony and serenity.
We propose several types of accommodation, from a room in the Château for a night including breakfast the next morning, to the option of renting one of our comfortable and fully-equipped winegrowers' holiday homes. Breakfast and use of the swimming pool are included in the price of a night's stay.
Our rooms are all elegantly decorated with care and attention. They represent the Provencal style of the 18th century but with all the modern comforts (TV, Wi-Fi, air-conditioning).
Our comfortable double rooms
OLIVIERS
From €159 / night
KING SIZE BED - 19 sq.m
SYRAH
From €159 / night
KING SIZE 4-POSTER BED - 21 sq.m
CLAIRETTE
From €199 / night
KING SIZE 4-POSTER BED – GARDEN VIEW - 21 sq.m
CARIGNAN
From €159 / night
2 SINGLE BEDS or 1 DOUBLE BED – 21 sq.m
Our luxury family suite
of 2 bedrooms to sleep up to 4
Our suite is romantic and welcoming with a splendid view of the vineyard.
It has 2 bedrooms – Lavandes and Abricots, equipped with king size beds, a private balcony of 20 sq.m overlooking the gardens, the pool and the vines.
It is very spacious with two bathrooms and a large walk-in wardrobe. It gives private and reserved access to our fitness room.
THE SUITE
From €300 / night
KING SIZE BEDS – PRIVATE BALCONY – GARDEN VIEW
PRIVATE FITNESS ROOM - 26 sq.m ET 21 sq.m
Privatisation of the Château
8 rooms sleeping up to 15 people
Do you dream of living like royalty for the space of a weekend, a week or more? Then dare to offer yourself this fairy tale! Your adventure will include strolls around the castle grounds, relaxing by the pool or in the lounge with its piano, in the dining room or the fitness room. The 8 rooms with bathrooms will be all yours! And let us know what else you may desire – breakfast service, caterer, private chef, yoga sessions, massages, discovery of our wine tourism activities, etc. We will make your stay absolutely idyllic!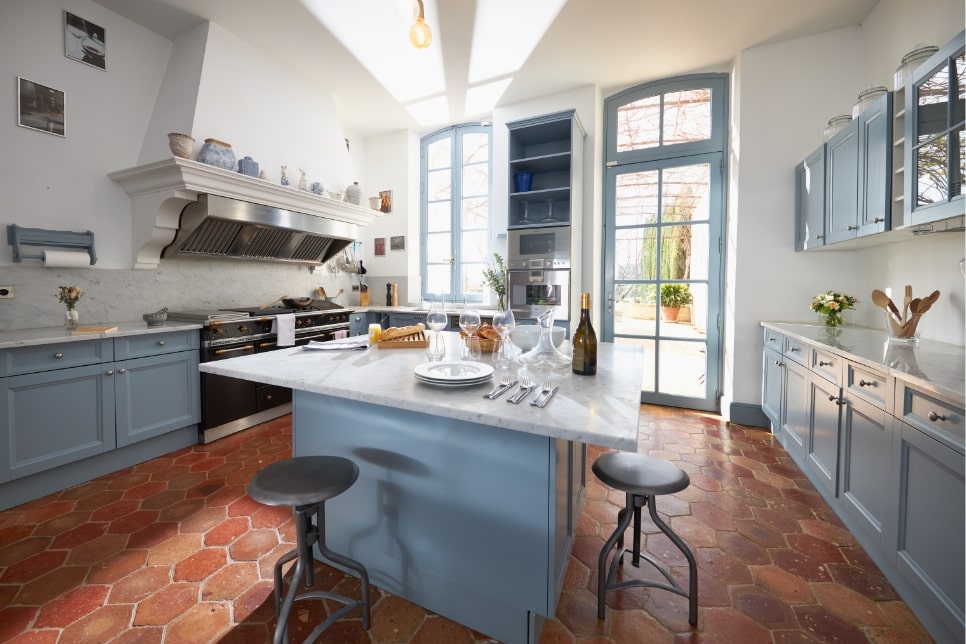 KITCHEN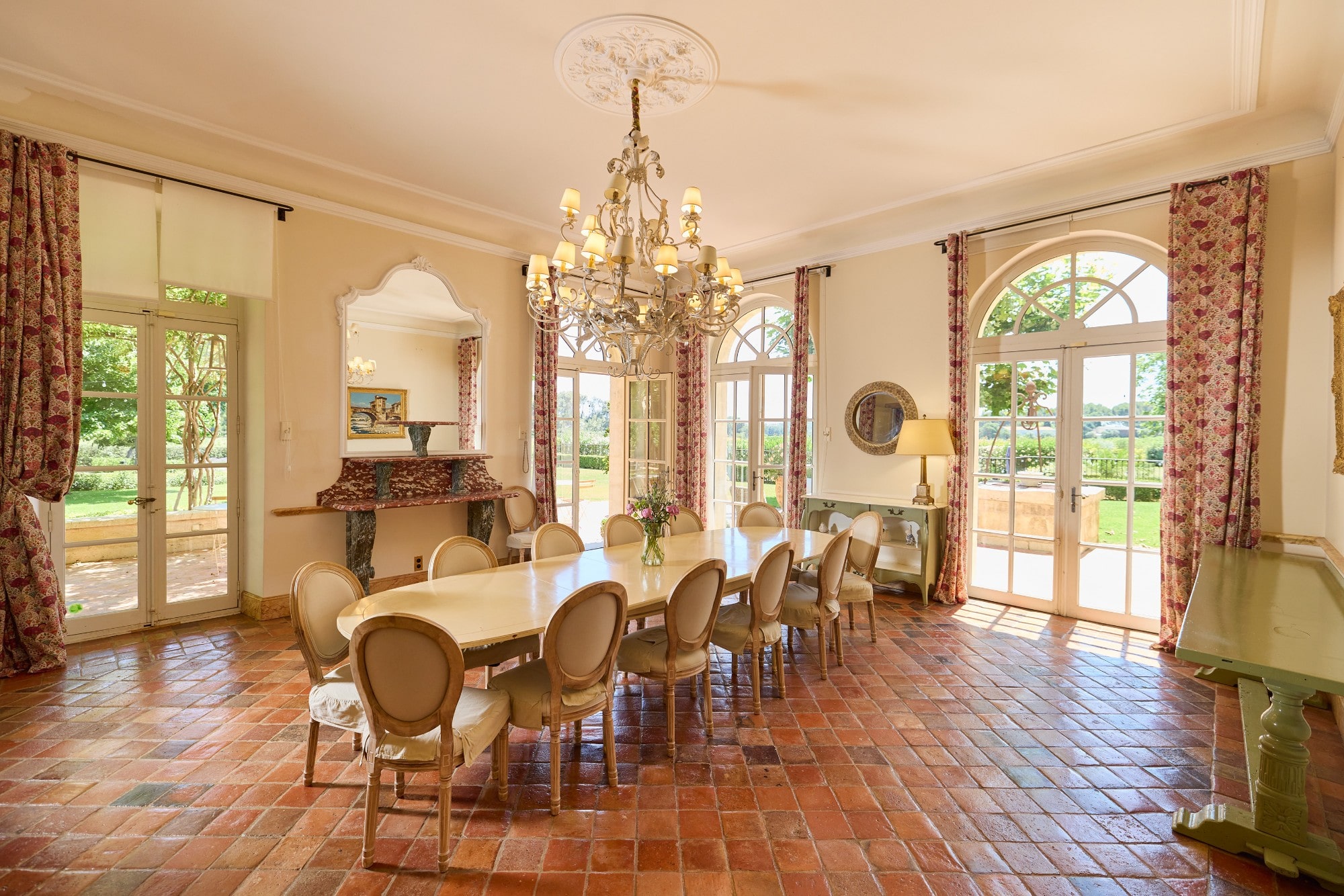 DINING ROOM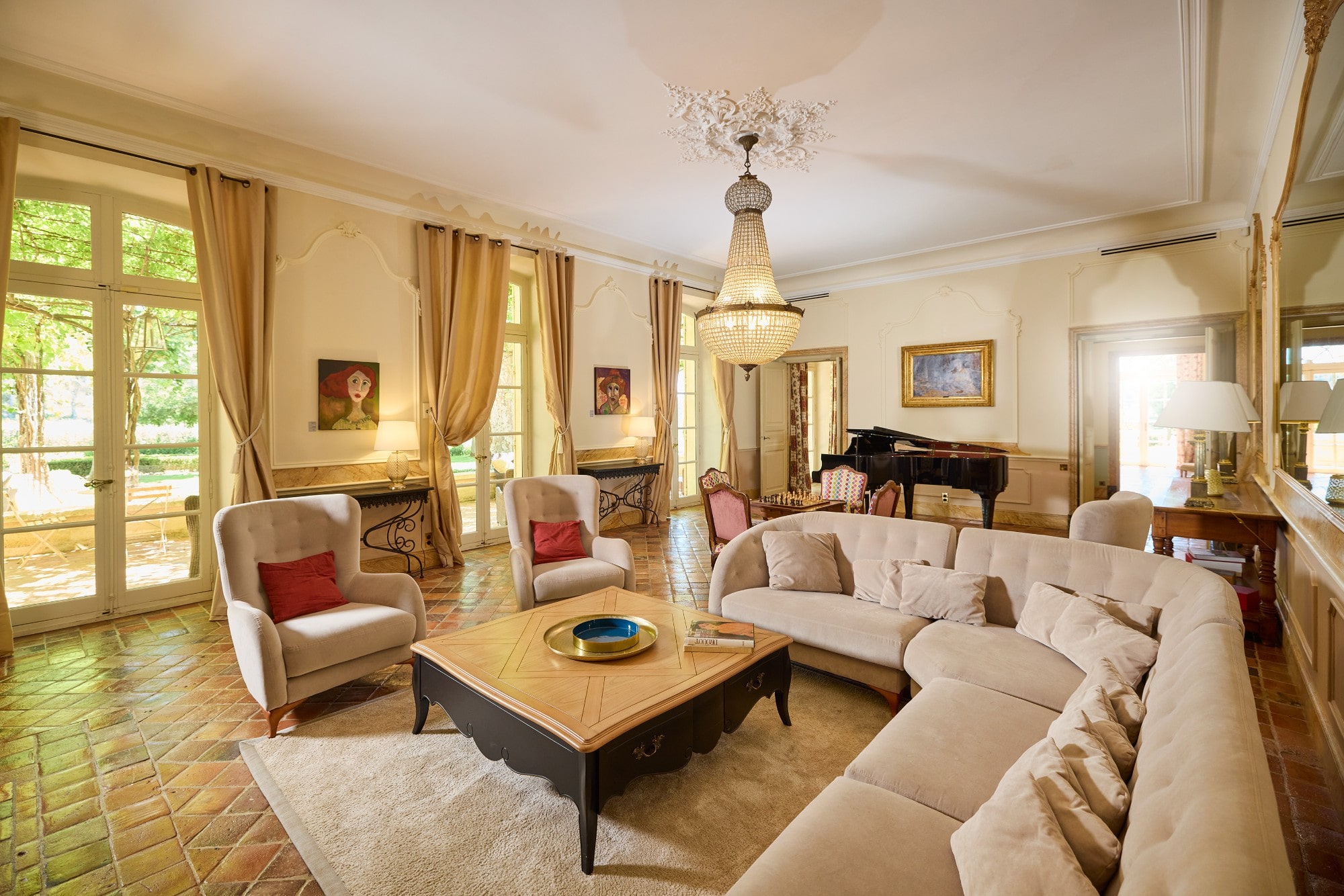 LOUNGE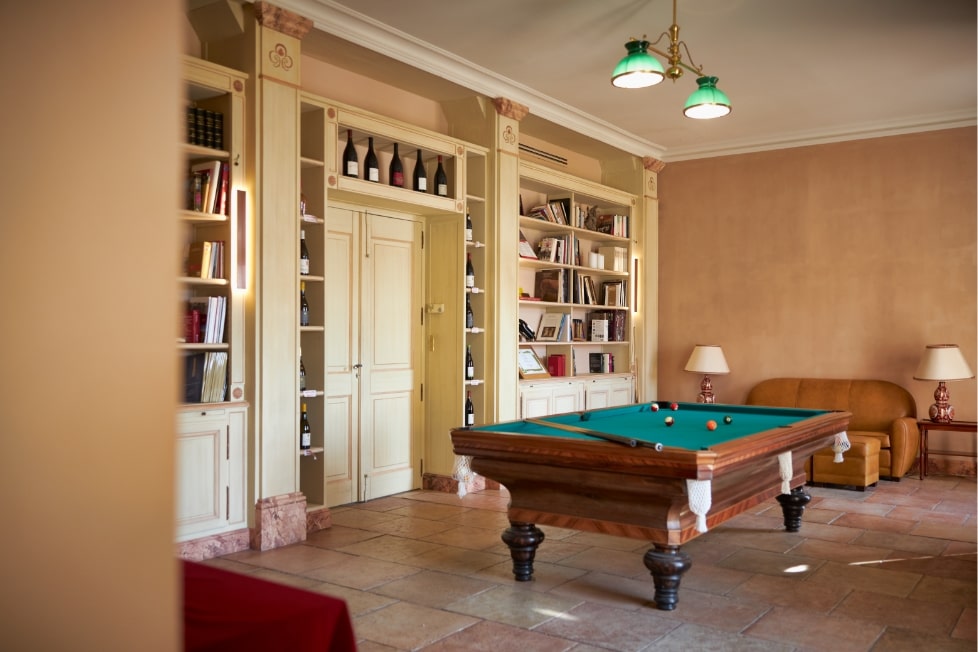 POOL TABLE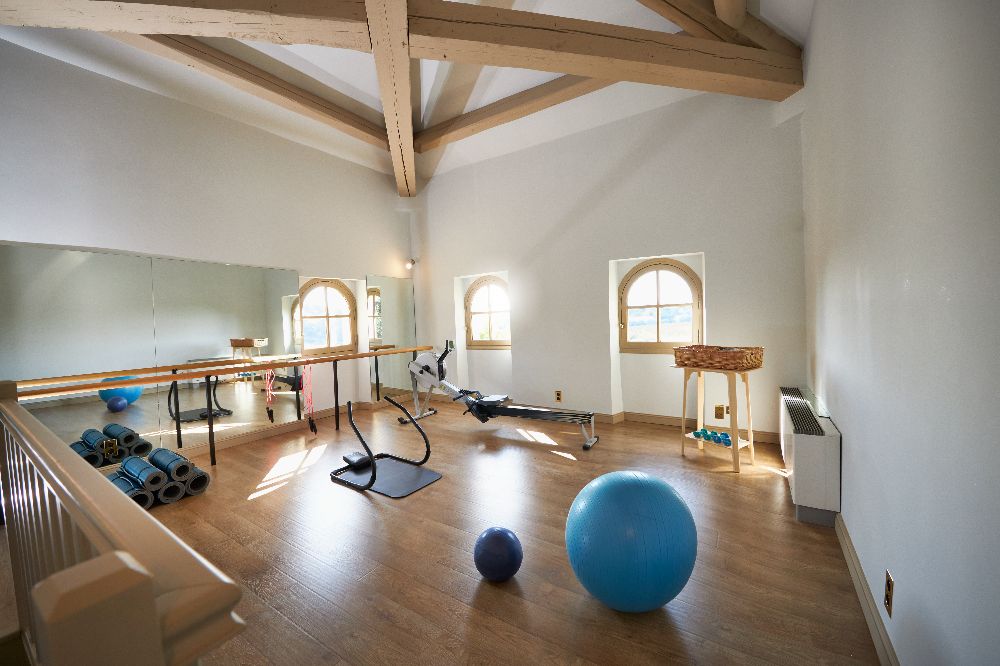 FITNESS ROOM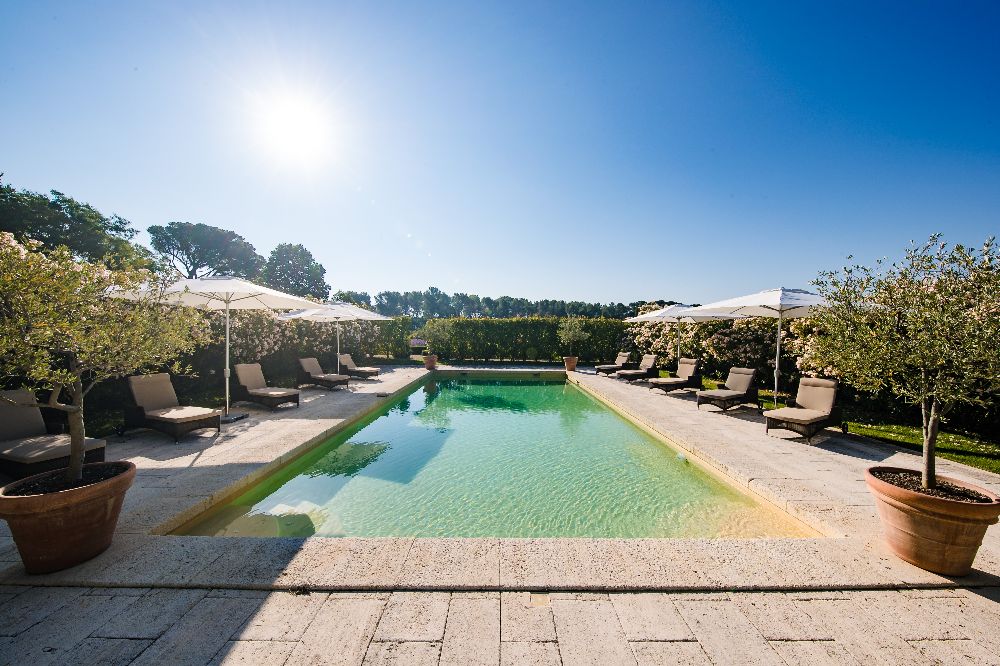 SWIMMING POOL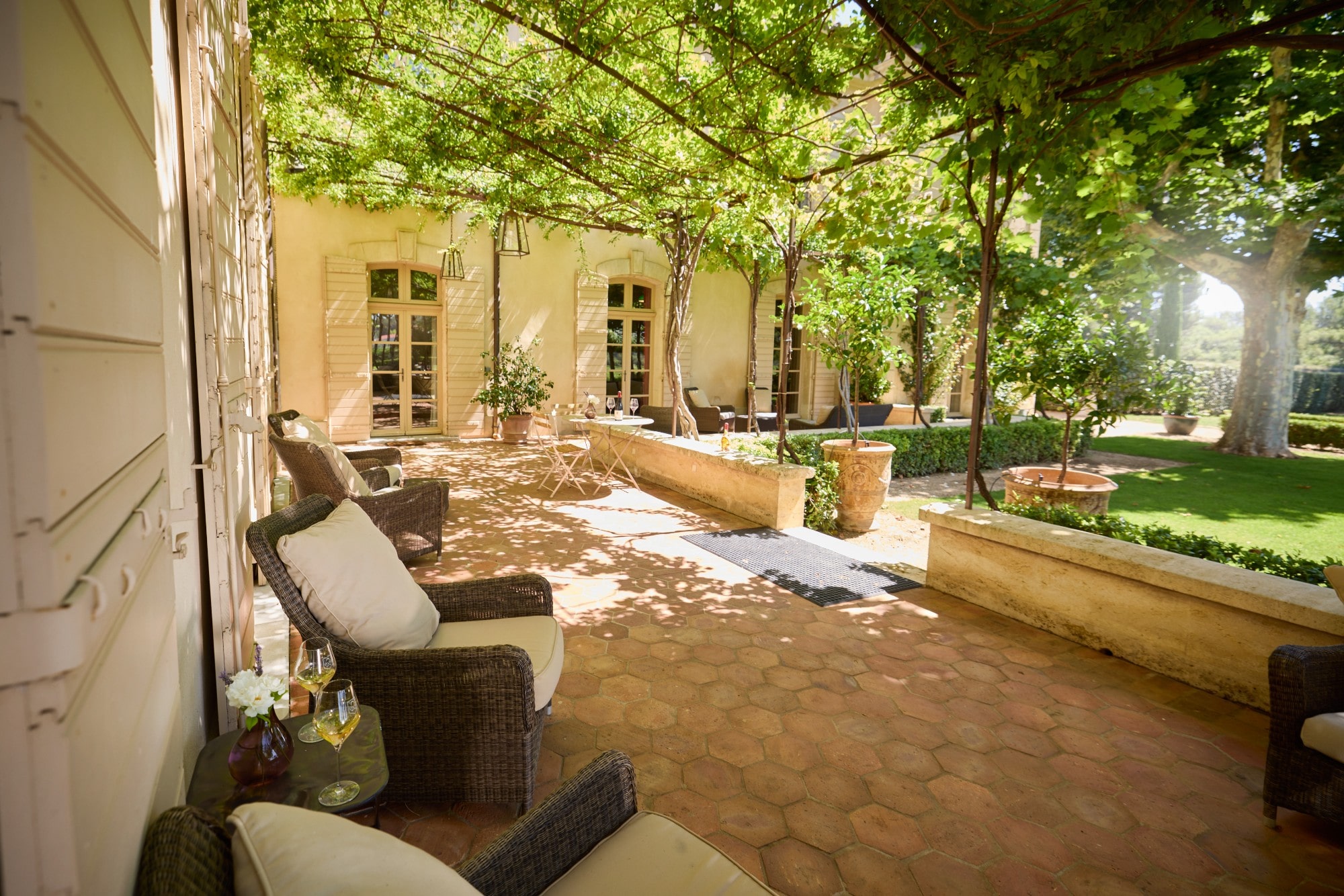 TERRASSE
THE CHÂTEAU
From €1000/night to €10,000/week depending on the season
8 ROOMS – FULLY EQUIPPED – PRIVATE BALCONY - GARDEN
OUR "WINEGROWERS" HOLIDAY HOMES
Two spacious apartments, one with 3 bedrooms and a terrasse, and the other with 2 bedrooms, available for rental all year round. At the heart of our vines and olive trees with access to the nearby boules pitch.
3-bedroom holiday home for 1-6 persons
2 double rooms
1 room with 2 single beds
From €70/night
FULLY-EQUIPPED – LOUNGE – DINING ROOM
OUTDOOR TERRASSE – BOULES PITCH - 75 q.m
3-bedroom holiday home for 1-5 persons
1 double rooms
1 room with 2 single beds
From €70/night
FULLY-EQUIPPED – LOUNGE – DINING ROOM
OUTDOOR TERRASSE – BOULES PITCH - 75 q.m